Book a pickup time for some fresh pizza! Only available on baking day and slots are limited.
About the pizzaiolo:
Originally from the Metro Detroit area, our owner Scott has an enormous passion for pizza making. Having had a few pizza jobs over the years, and then moving on to making his own; Scott is thrilled to share a delicious pizza experience with you.

I love Detroit style pizza, which was simply "pizza" to me as I grew up. My father would take me to Buddy's Pizza (the originator of the style) after sporting events and I always look back on those moments fondly for the memories of delicious food and time with family. I hope to share this amazing style of pizza with you and maybe you will grow to love it as much as I do.
About the pizza:
We take pride in using high quality flours and ingredients in making our pizza. Using a 24 – 48 hour fermentation processes, we build flavor over time in the dough. This dough is the pillar in which excellent pizza is built upon. A lot of love goes into each and every pie.

We love utilizing homegrown herbs, vegetables and greens when in season. We use an Ooni Pro, which is an outdoor wood-fired pizza oven to bake our round pizzas and they cook in under 3 minutes! Our pan pizzas are baked in a conventional oven with a pizza steel for maximum crisp.
We do other style of pizza as well as Detroit style so there won't be a shortage of options and you can always send me a direct message with a special request. I can't accommodate all special requests, but I'm open to them.
How to order:
Video Tutorial here: https://youtu.be/kHt553gVKa8
See menu attached to this page.
Book a pickup time with the widget below. Please put your order in the Notes box. Limit 2 pizzas per order.
You can donate using Venmo, CashApp or Paypal.
Your pickup slot will be confirmed shortly after donation is received. Additional pickup information will also be sent. *
The pizza will be ready at the beginning of the time slot. You won't need to stay for the entire duration. You can expect the pizza to be done within the first 10 minutes of the pickup slot.
We usually post the new menu a few days ahead of the pickup date. You can subscribe to our Pizza Alert System and be notified via text message when we post the new menu.
---
NEXT PICKUP DATE – Wednesday November 24th 4pm to 8pm
Menu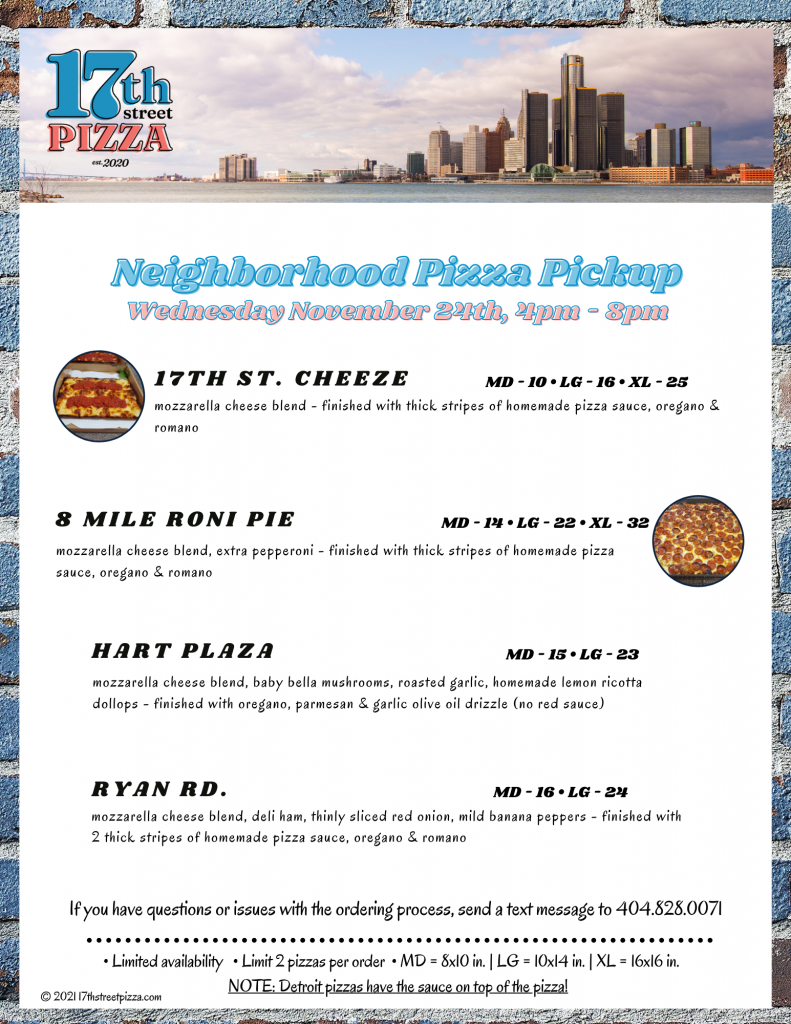 ---
---
Donation Options
Venmo: https://venmo.com/cheeze_pizza07
Paypal: http://paypal.me/17thstreetpizza
CashApp: https://cash.app/$17thstreetpizza
---
*Pickup location will be revealed after booking confirmation for security reasons.